The choices you make when framing your pictures can dramatically affect how long you can enjoy your treasured piece. Just as we have had advancements in technology we also have had advancements in framing techniques and materials.

Since the birth of mankind every new generation enjoys and reveres the artwork from the generations of the past.

From simple cave paintings and Egyptian hieroglyphs to renaissance masterpieces the value of these to society is immeasurable.

The value you place on your family photos, treasured heirlooms and any items you might frame for protection is a personal one…

…something we hear often is
"Oh, I wish I had looked after this a little better."

As qualified picture framers it is our duty to protect and conserve your memories through sound tried and tested techniques.

We urge you to consider the added benefits of protecting your pictures by using the latest technology.

There are several factors that shorten the life of pictures. The common risks include exposure to UV radiation or harmful chemicals.

More pervasive risks include insect damage or mould. These risks can be minimized or insured against by the choices you make today.

Please consider choosing ENDURART Process to protect your pictures.




ENDURART encompasses our philosophy and commitment to creating the right frame for your pictures. The process ensures that your pictures are assessed before custom framing. This assessment helps to identify any damage or potentially harmful practices or inherent faults that may shorten the lifespan of your framed picture. After assessment your consultant can provide you with advice that will offer you the best protection with a view to adhering to internationally accepted framing practices.
The basic outline of the ENDURART PROCESS is as follows:
• Identify the type of picture and document any damage or inherent faults
• Thoroughly explain the benefits of conservation framing to the client
• Document the procedures that Fix-a-Frame will apply to the job
• Our craftsmen will then frame the picture using best practice techniques

Each and every artwork/picture has individual requirements, some of which include using TRU-VUE™ conservation and museum glass, Alphamat Artcare™ products, Crescent™ museum rag products and various other archival and acid-free materials.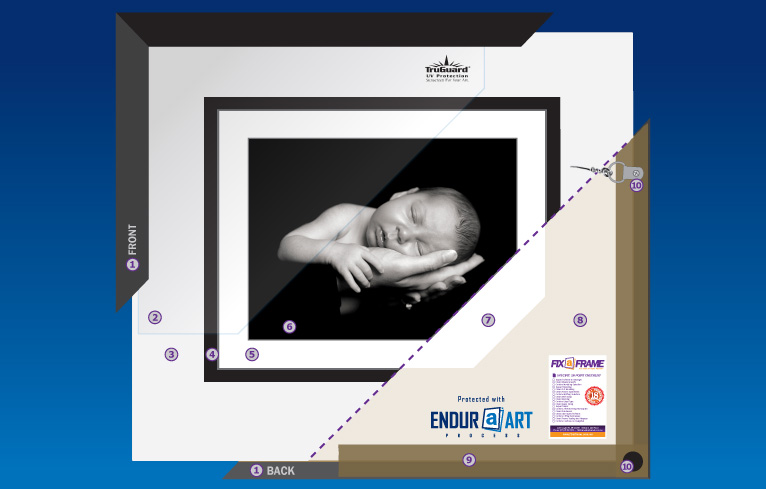 1. FRAME (Front and Back)
2. CONSERVATION GLASS
3. TOP MAT (Artcare® or RagMat®)
4. STEP MAT (Artcare® or RagMat®)
5. STEP MAT (Artcare® or RagMat®)
6. ARTWORK
7. ACID FREE BARRIER
8. ACID FREE BACKING BOARD
9. SEALING TAPE OR DUST COVER
10. FITTINGS (D-Rings and Bump-Ons)
Remember choose the ENDURART PROCESS to give your pictures the protection future generations deserve.